Could Nancy be the ideal city? It sure looks like it. With its beautiful architecture, the city is rich in culture, terraces and green spaces. In addition to being the first student city of the North-East region, with students representing 20% of its population, Nancy is always lively. You can enjoy markets, flea markets and parties all year round! And all this is only 1.5 hours away from Paris... Let's take you through the city's must-see places!



Nancy, regional capital of culture
At the end of the 19th century, Nancy quickly became the cradle of Art Nouveau, based on the aesthetics of curved lines and using materials from the industry, such as metal, steel, glass and wood. Many "villas" inspired by this art were built, as you can see while wandering around the city. The iconic Villa Majorelle is the best example. The Nancy School also houses a museum dedicated to this art.

If you discover yourself a passion for Art Nouveau, here are other places you may want to discover: :
The Saurupt District
The Crédit Lyonnais glassworks
The Bergeret House
The Excelsior brewery



The Fine Arts museum
To continue with aesthetics, the Musée des Beaux-Arts on Stanislas Square is also a very nice visit!
If you are planning a cultural marathon or have friends over for a visit, we recommend you buy the Nancy City Pass. It gives you access to almost all the city's museums and cultural sites at discounted rates. We all love a good deal!
Place Stanislas
Listed as a UNESCO World Heritage Site, Place Stanislas is worth the detour! Located in the heart of Nancy and completely pedestrianised, it is considered the most beautiful Royal square in Europe. Lined with historic monuments and filled with open terraces, many events are organized throughout the year, including in December. Other smaller squares revolve around it, such as the Place de la Carrière or Place d'Alliance.
The Old Town
Close to the Place de la Carrière is the Ducal Palace, the former home of the Dukes of Lorraine. This museum is one of the city's three major museums. With nearly 60,000 visitors a year, it helps discover the area's history, from prehistory to the 19th century. The museum is currently undergoing a major renovation and extension, aiming to turn it into a walking museum by 2023.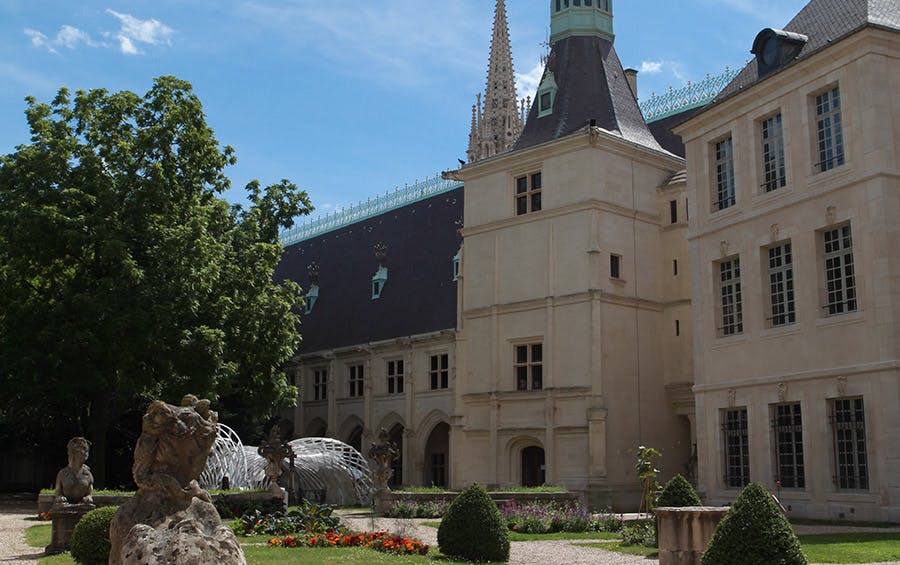 The Pépinière park
Time to leave museums aside and enjoy the outdoors with le parc de la pépinière! A 23-hectare park where walks are most enjoyable! Its kiosk and white peacocks are its hallmarks. Close to Sharies, this place is an ideal base for your summer jogs and picnics.


The Opera
It was awarded the National Opera label by the Ministry of Culture and Communication in January 2006. This makes it the fifth National Opera in the region and bestows it with an international reputation!
Nancy surroundings
Once a rich medieval region, we highly recommend you visit the surrounding area and discover its many parks and castles. Sharies's favourite? Lunéville castle, accessible by train from Nancy.
Cycling trips
Want to escape a little? We recommend a nice bike ride. The Nancy-Tourisme website offers excellent routes, ranging from 10 to 60 kilometres!
As you can see, it is unlikely you will ever get bored during a weekend in Nancy. Activities, walks and museums, we cannot wait to hear where your curiosity leads you!
We would like to thank you for reading and would therefore like to share one of our favourite restaurants in Nancy: Chez Voyou, 20 rue Stanislas. The burgers there are excellent and the atmosphere casual.
Finally, here is a video of Nancy from above, courtesy of Tourisme Lorraine: 👇
Tempted to colive in Nancy? Get in touch!